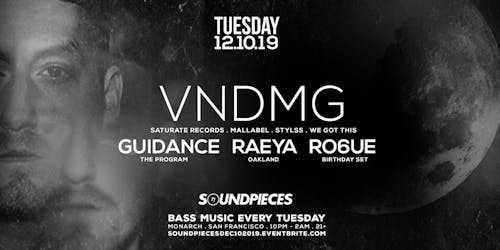 VNDMG, GUIDANCE, RAEYA, RO6UE — SOUNDPIECES
Soundpieces presents an exclusive night of staple Bay Area players on the west coast, join us for a night of exploring the spectrums of bass music featuring experimental dubstep, trap, tropica bassl, dnb, and more!
█ VNDMG - Saturate Records . Mallabel . STYLSS . We Got This
█ GUIDANCE - The Program
█ RAEYA - Oakland
█ ROU6E - Birthday Celebration!
ABOUT TUESDAY — Soundpieces turns up in the BASSMENT of Monarch EVERY TUESDAY. We are San Francisco's ONLY weekly plug to witness diverse selections of the most proper underground electronic music of our time.. Dubstep . Trap . Grime . Hip Hop . Footwork . Halftime . House & More! RSVP for
Discount before 11PM . BUY A PRESALE for Discount ALL NIGHT! SoundpiecesDec102019.eventbrite.com
TO RSVP FOR DISCOUNT ENTRY BEFORE 11PM — You must hit "Going" on facebook event page and/or email your full name to soundpiececesparty@gmail.com. Email us now to Register for forever VIP treatment and intel of our future shows and undergrounds.
∏∏∏∏∏∏∏∏∏∏∏∏∏∏∏∏∏∏∏∏∏∏∏∏∏∏∏∏∏∏∏
█ VNDMG — A constant proponent of all things weird and sci-fi, VNDMG lives to produce technically experimental bass music. By infusing hip-hop fundamentals and MCs in to electronic music, he pushes the listener to experience new and unique sounds while luring them in with familiar crowd pleasers. A high energy DJ, VNDMG prides himself on providing a unique set full of original productions, remixes, and hidden gems.
█ GUIDANCE — As a well established Bay Area DJ, Guidance has been seamlessly integrating various forms of island-style based genres as Tropical Bass and Future Dancehall into a modern yet uniquely refreshing approach to today's progression of Bass Music.Recently he has blessed the stage with his presence for various well-known festivals such as Reggae On The River and Northern Nights. In 2017 he was picked up as a resident for the up and coming Bay Area crew The Program, and he is currently playing a variety of California venues as well as a handful of underground events.Guidance is continually evolving himself as artist and in 2019 he will be expanding his musical repertoire by exploring the realm of digital music production while furthering his progression as a DJ.
█ RAEYA — an Oakland based DJ who brings a unique sound that is inspired by her expansive and diverse taste in music. She covers a range of styles from r&b, bass, hip hop house, eclectic soul and tropical/dancehall. She specializes in mixing all of these styles fluidly and keeping the dance floor moving with high quality sound.
█ ROU6E — Don't sleep on this girl, she's a OG heavyweight who consistently crushes the dancefloor. With roots deep in the exploding drum & bass scene circa 2003 she began her dj career spending countless hours sifting through vinyl for the freshest cuts. Since then she has broadened her horizons, incorporating elements from all aspects of electronic music. She has held it down at every major bass music event on the west coast, internationally and beyond, & has shared the stage with some of the biggest names in dance music such as zedds dead, g jones and opiou. Always putting on a smashing performance, prepare to be taken on a musical journey that transcends space, time and bends genres. With the bay area as home base she has recently picked up her production skills once again and has been working on a slew of original material.
[FLUENT IN ALL GENRES]
█████ MONARCH █████
101 Sixth Street @ Mission St, San Francisco
10PM-2AM . 21+ . SF Rated Best Sound System . Swanky & Vibey . Amazing Drinks . Free Photo Booth!!
http://www.facebook.com/monarchsf
http://www.facebook.com/soundpieces
∏∏∏∏∏∏∏∏∏∏∏∏∏∏∏∏∏∏∏∏∏∏∏∏∏∏∏∏∏∏∏
This event was made possible by SOUNDPIECES
SOUNDPIECES — For over 13 years, Soundpieces has been a consistent staple of diverse and forward thinking electronic music in San Francisco and across the globe. Responsible for countless Bay Area debuts such as Skepta, Mount Kimbie, Hudson Mohawke, and Nicola Cruz, Soundpieces has become a powerful ambassador of international music in California. But our work doesn't stop in the Bay Area, we have helped book festivals such as Symbiosis Gathering, and produced one-offs in New York, Detroit, SXSW Austin, Outlook Croatia, throughout Asia, and beyond. Valuing quality over any specific genre or style, Soundpieces continues to be the quality plug for fresh, exciting musical styles showcased in the most sophisticated and underground atmospheres. With our rotating roster of new talent and heavyweight artists, along with the longest running bass music weekly in San Francisco, we have built a legacy as one of the West Coast's greatest resources to experience underground electronic music.
@SOUNDPIECES
THE VOID Acoustics Soundsystem
We are honored to be able to showcase Soundpieces on Monarch's custom horn-loaded Void Acoustics Sound System, the only one of its kind on the West Coast!!! When you descend to the club's dance floor you are immersed in a world of complete euphony generated by the venue's four protruding tuba-like enclosures. Without a dead spot in the room, it's easily the best place in the city to hear the biggest sound.