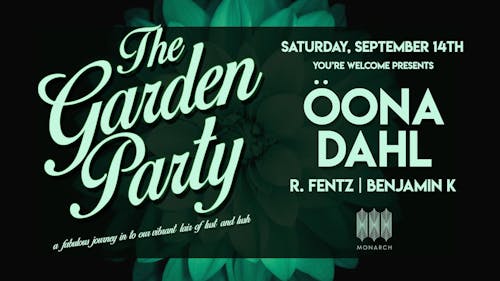 ! ! TICKETS AVAILABLE AT THE DOOR ! !
You're Welcome is opening the doors for you and yours into a vibrant landscape of prismatic colors, living breathing dreamscapes, and luscious smooth sounds. A fantastical floral fantasty land, where dreams and reality become one. We'll be transforming Monarch's lair of lust into the modern Garden of Eden: a luminous, wondrous world of flora and fauna, where your body and mind can transport to an immersive universe of imagination, love and primal groove.
On Saturday, September 14th
With this, you are cordially invited to..
~*~* The Garden Party *~*~
Featuring sounds by:
●• ----- Öona Dahl --- •●
(HALLUCIENDA. ALL DAY I DREAM. SLUMBER. MAYAN WARRIOR. ANJUNADEEP )
:: https://soundcloud.com/oonadahl
●• ----- R. Fentz --- •●
(Manjumasi | Nice Timings)
:: https://soundcloud.com/rfentz
●• ----- Benjamin K --- •●
(You're Welcome | Garden Party)
:: https://soundcloud.com/benjamin-k