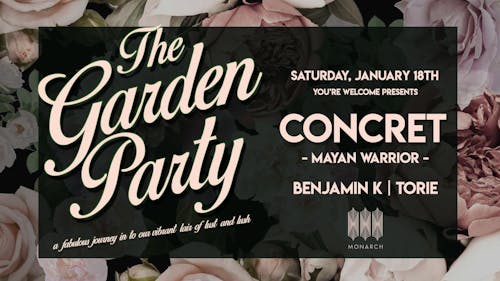 New year. New us. Welcome to the roaring 20's. Let's frolic ♥
You're Welcome is opening the doors for you and yours into a vibrant landscape of prismatic colors, living breathing dreamscapes, and luscious smooth sounds. A fantastical floral fantasty land, where dreams and reality become one. We'll be transforming Monarch's lair of lust into the modern Garden of Eden: a luminous, wondrous world of flora and fauna, where your body and mind can transport to an immersive universe of imagination, love and primal groove.
With this, you are cordially invited to..
~*~* The Garden Party *~*~
Featuring sounds by:
●• ----- CONCRET --- •●
(Mayan Warrior | Mexico City)
:: https://soundcloud.com/concretmusic
:::: https://www.facebook.com/Concretmusic
●• ----- BENJAMIN K --- •●
(You're Welcome, Glitter Ranch)
:: https://soundcloud.com/benjamin-k
:::: https://www.facebook.com/bkvaluemealz
●• ----- TORIE --- •●
(You're Welcome, ICARUS)
::: https://soundcloud.com/yotorieee