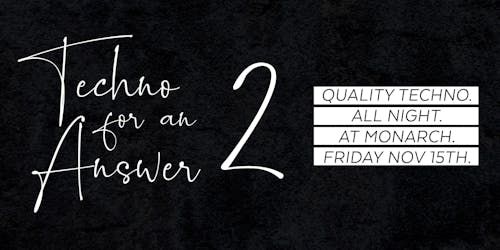 Jessica
DJ Spacecamp
Turtletheory
Sam Drank
Atmøs
Dr. Reebs
Tronic
$0.00 - $15.00
Sales Ended
Techno For An Answer 2: Jessica, DJ Spacecamp b2b Turtletheory, Sam Drank b2b NDMC, Dr. Reebs [ZF] b2b Tronic
The Zero Fucks crew is throwing their biannual all techno party and taking it down into the Monarch basement. Expect intimate, dark, hazey vibes, and one of the best sound systems with high quality selectors:
— featuring —
• Jessica [Icarus]
https://soundcloud.com/jessicastanell
• DJ Spacecamp [ZF] b2b turtletheory [ZF]
https://soundcloud.com/djspacecamp
https://soundcloud.com/turtletheory
• Sam Drank [Inquiry Collective] b2b NDMC [ZF]
https://soundcloud.com/samdrank

https://soundcloud.com/ndmcmusic
• Dr. Reebs [ZF] b2b Tronic [ZF]
https://soundcloud.com/tekno_reba
We highly encourage dancing, friend making, and checking your fucks and your phones at the door (no flash plz!). We have a strict no tolerance policy on the dance floor. If you have an issue, please come up to the DJ booth and talk to one of the ZF crew ASAP. Our dance floor is a place to get weird, not be weird towards others.
What's this whole Zero Fucks thing about anyway? We're a camaraderie-heavy crew that loves new friends and great music. We don't put up with bullshit on the dancefloor, we love being playful on the DJ decks, we love to techno, we travel the world in search of next level vibes.
***
21+
Void Sound System
For more info, contact info@monarchsf.com
Follow Monarch on social media:
www.facebook.com/monarchsf
www.instagram.com/monarchsf
Come grab a bite next door before the show at Pawn Shop. Check out our menu here: https://thepawnshopsf.com