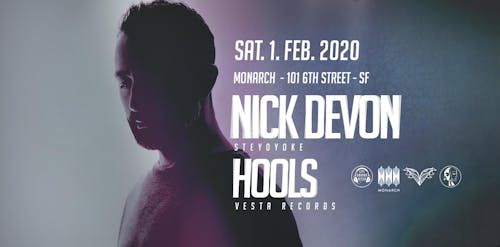 Nick Devon & Hools: Life Sounds Better x Monarch
$10.00 - $20.00
Sales Ended
Nick Devon (Steyoyoke) & Hools (Vesta Records): Life Sounds Better x Monarch
Join Life Sounds Better and Monarch on Saturday, February 1st as we welcome Nick Devon (Steyoyoke) and Hools (Vesta Records) to the club.
// FEATURING //
Nick Devon
https://soundcloud.com/nick-devon
Hools
https://soundcloud.com/hoolsdj
// ABOUT NICK DEVON //
Nick Devon is an Athens based DJ/producer whose involvement with electronic music has spanned more than two decades. His musical journey commenced at 16, when he started experimenting with toy pianos and pretty much anything that could produce notes. Before long he was playing his father's vinyls and from here, quickly advanced to DJing and producing.
Initially producing drum & bass as well as trance, Nick Devon later transitioned his sound, gravitating towards electronica and techno. Nick's dark trippy melodic sounds are distinctive, forged through a combination of digital, analogue and physical instruments sourced within his own studio. This admirable skill has earned him much respect from numerous high profile artists worldwide. As a former vinyl DJ, Nick is also an avid record collector and to this day, spins plenty of old and new records.
In 2010, Nick officially launched his solo project and started producing sounds and music that shook the dance floor, yet bestowed captivating melodies and emotional soundscapes, allowing people to create their own story within his productions. From this point forward, Nick's career swiftly evolved. In 2015, he released two huge EP's titled "The Poem" and "Cosmos". His remix on Innellea - Colante quickly followed in 2016 and with all three EP's released on Steyoyoke Recordings, it clearly affirmed just why he is considered a core member of the Berlin based collective. His tracks have been remixed by the likes of Kellerkind, Rolland Appel and Cid Inc and with an ever growing fan base, his music is regularly played and supported by some of the biggest DJs around the globe. Nick has released originals and produced remixes on a number of labels such as 3AM, Rhythemtic, Savoir Faire Musique, Body Rhythm, The Sound Of Everything, Blindfold Recordings, Us & Them, Steyoyoke, Inside Out Records and many more!
// ABOUT HOOLS //
Hools will be joining us fresh from making his European debut in Germany and Switzerland, having recently released his first EP with Vesta Records (Berlin). The three-tracker 'Snuffie EP' was well received, reaching #3 on Beatport Top 100 Melodic House & Techno and #9 on Beatport Top 100 Global new release charts.
Originally from Argentina, Hools developed an early affinity for electronic music in the cutting-edge clubs of his home city and dj'd casually for many years before officially pursuing his musical career. Hools gained his early following as Pongo Lounge's resident DJ and through his popular studio mixes, quickly developing an international fan base for his signature emotive sound. Hools now focuses on music full-time, turning his passion into original productions, regular club and festival appearances, studio mixes, and a monthly podcast for Progressive Beats Radio.
***
21+
Void Sound System
For more info, contact info@monarchsf.com
Follow Monarch on social media:
Come grab a bite next door before the show at Pawn Shop. Check out our menu here: https://thepawnshopsf.com