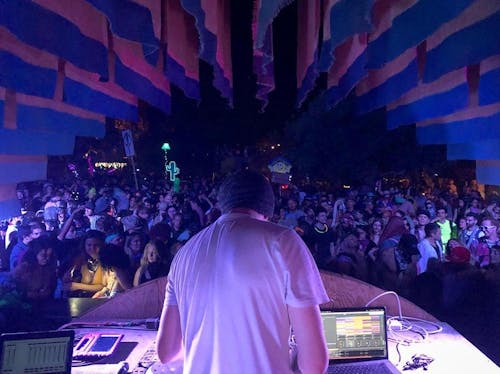 Mihkal, Salem (SLC - SF Debut), Payam, D Stark - Soundpieces SF
$5.00
Sales Ended
On Eventbrite
Mihkal, Salem (SLC - SF Debut), Payam, D Stark - Soundpieces SF
Super favorite MIHKAL is coming thru to drop the bass and throw his hands up.. we hope you are ready. Be sure to be here it's going to be hot fiyah!
█ MIHKAL // Street Ritual
█ SALEM // SLC - SF DEBUT
█ PAYAM // Payam Air
█ D STARK // Payam Air
ABOUT TUESDAY — Soundpieces turns up in the BASSMENT of Monarch EVERY TUESDAY. We are San Francisco's ONLY weekly plug to witness diverse selections of the most proper underground electronic music of our time.. Dubstep . Trap . Grime . Hip Hop . Footwork . Halftime . House & More!
RSVP for Discount before 11PM
Buy a ticket for Discount all night!!
Soundpiecesjuly302019.eventbrite.com
TO RSVP FOR DISCOUNT ENTRY BEFORE 11PM — You must hit "Going" on facebook event page and/or email your full name to soundpiececesparty@gmail.com. Email us now to Register for forever VIP treatment and intel of our future shows and undergrounds.
█ MIHKAL
Brought up in the epicenter of underground electronic music culture, San Francisco Bay Area audio alchemist MiHKAL has made his mark as one of the most prominent & respected DJ's on the westcoast. Notorious for his melodic yet nasty, hood rich trap production, mixtapes & ecstatic live performances, he provides dancers & listeners a sonic catalyst from which their own creative expressions can emerge. Wether turning up @ the club or laying down the sexy bedroom feels, MiHKAL consistantly delivers the soundtrack of the moment with utter finesse.
A true OG & master of his craft, MiHKAL has gained wide recognition in the festival community, gracing the stages of Coachella, Lightning in a Bottle, Symbiosis, Bass Coast, Emissions, Raindance, Lucidity, Northern Nights, Burning Man + many more. No stranger to the stage, he has provided direct support for fellow artists G Jones, MiMOSA, PANTyRAiD, EPROM, SALVA, Dimond Saints, Gladkill, Thriftworks, Alex Grey + many more. With no signs of turning down, watch him get the party lit with his undeniable stage presence & unparalleled vibe curation.
https://soundcloud.com/mihkal
█████ MONARCH █████
101 Sixth Street @ Mission St, San Francisco
10PM-2AM . 21+ . SF Rated Best Sound System . Swanky & Vibey . Amazing Drinks . Free Photo Booth!!
http://www.facebook.com/monarchsf
http://monarchsf.com/
http://www.facebook.com/soundpieces
∏∏∏∏∏∏∏∏∏∏∏∏∏∏∏∏∏∏∏∏∏∏∏∏∏∏∏∏∏∏∏
This event was made possible by SOUNDPIECES
SOUNDPIECES — For over 13 years, Soundpieces has been a consistent staple of diverse and forward thinking electronic music in San Francisco and across the globe. Responsible for countless Bay Area debuts such as Skepta, Mount Kimbie, Hudson Mohawke, and Nicola Cruz, Soundpieces has become a powerful ambassador of international music in California. But our work doesn't stop in the Bay Area, we have helped book festivals such as Symbiosis Gathering, and produced one-offs in New York, Detroit, SXSW Austin, Outlook Croatia, throughout Asia, and beyond. Valuing quality over any specific genre or style, Soundpieces continues to be the quality plug for fresh, exciting musical styles showcased in the most sophisticated and underground atmospheres. With our rotating roster of new talent and heavyweight artists, along with the longest running bass music weekly in San Francisco, we have built a legacy as one of the West Coast's greatest resources to experience underground electronic music.
@SOUNDPIECES
THE VOID Acoustics Soundsystem
We are honored to be able to showcase Soundpieces on Monarch's custom horn-loaded Void Acoustics Sound System, the only one of its kind on the West Coast!!! When you descend to the club's dance floor you are immersed in a world of complete euphony generated by the venue's four protruding tuba-like enclosures. Without a dead spot in the room, it's easily the best place in the city to hear the biggest sound.