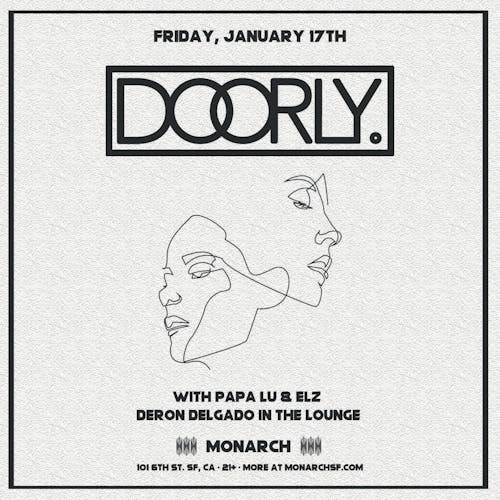 Doorly (Reptile Dysfunction / Hard Times) | Papa Lu | Elz | Deron Delgado
$0.00 - $20.00
Sales Ended
Doorly (Reptile Dysfunction / Hard Times) at Monarch
Mark your calendars for January 17th, as we welcome Doorly to the decks for a night of grooves on the Monarch dancefloor!
~ Doorly
+ Papa Lu
https://soundcloud.com/papa-lu
+ Elz
+ Deron Delgado in the lounge
https://soundcloud.com/derondelgado
// ABOUT DOORLY //
Hailed as one of the most technically gifted DJs of his generation, as well as being a producer extraordinaire, record label boss and general Ibiza legend, Doorly is without question one of the world's most singularly talented electronic artists.
As of 2018, he can already add two Essential Mixes, multiple Beatport and Traxsource No.1s (including a month-long stint at No.1 in the Beatport Chart with 'Gravity Check'), sharing the stage with The Prodigy, production for Usher and Nicki Minaj, acclaimed releases on Cajual, Dirtybird and Hot Creations and studio collaborations with Green Velvet, Switch & Grandmaster Flash to his ever-growing list of achievements.
From the rooftops of Austin at SXSW & Miami with Skream and Jackmaster, to 2000 capacity 'secret' warehouse parties in Downtown LA, his Doorly & Friends parties have gone on to establish residencies at Ministry of Sound (London), AIR (Amsterdam), Sound (Los Angeles) and Canal Mills (Leeds), Space & Pikes Hotel (Ibiza), Sisyphos (Berlin) plus regular parties in Miami, San Francisco, Asia and across the world.
Since 2017, one of Doorly's major focuses has been his label, Reptile Dysfunction, with this serving as an outlet for some of his more leftfield productions, whilst also championing the wealth of incredibly talented artists he is inspired by on his regular travels around the globe. Since its launch it has released records from rising stars including Charlie Rope, Tan Dem and El Prevost, as well as huge stars like Patrick Topping, Skream, Mike Skinner and Idris Elba.
In addition to the releases, in 2018 Reptile Dysfunction will also be hosting live events, pushing the new brand as a globally active series of bespoke, one-off party experiences and residencies. These will take place at some of the world's greatest clubs, imaginative venues and neon jungles, with the first taking place at Electric Pickle, Miami during Miami Music Week with DJ Sneak, Greg Wilson and many more besides.
Above all else however, Doorly is first and foremost a DJ, with his dedication to and passion for the craft apparent to everyone who sees him perform. Sets are played out across four CDJs, plus samplers and FX units, and he is a firm believer that a DJ set should be a live, unique experience. To that end, Doorly continues to work alongside Pioneer as one of its Pro-DJ Ambassadors.
***
21+
Void Sound System
For more info, contact info@monarchsf.com
Follow Monarch on social media:
Come grab a bite next door before the show at Pawn Shop. Check out our menu here: https://thepawnshopsf.com