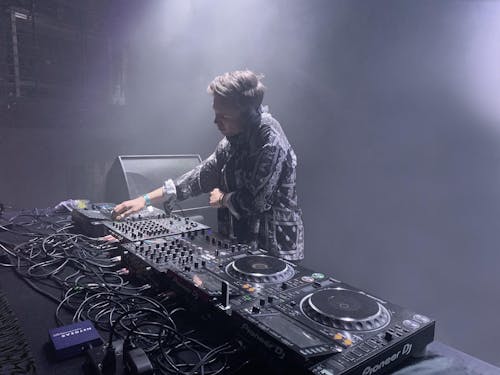 Don't miss Tim Green with a brand new release on All Day I Dream and Denite's US Debut.
SET with TIM GREEN (Dirtybird, Get Physical, All Day I Dream) + DENITE (Diynamic, Get Physical) at Monarch
Support by Andrew Phelan
GET ON THE GUEST LIST:
$10 Before 11pm
FRIDAY, APRIL 24TH
21+ 9:30pm - 4am
Monarch, 101 6th St
ABOUT TIM GREEN: Tim Green's ability to effortlessly manoeuvre and experiment across the spectrum of electronic music has never been more evident than it is today. Whether putting out reverberating house & techno that sends dance floors into a frenzy or writing radio friendly alternative pop music under the moniker Invisible Minds, his work is always stamped with fearlessness. 'I think diversity in music is the most important thing. The more colours you have in your palette, the more creative and interesting the results can be'
Tim's father – a keyboardist, kept the family home flooded with the sounds of Pink Floyd and Joni Mitchell. Learning guitar from the age of 8, Tim played in bands as a teenager, but it was upon hearing Daft Punk's Discovery album that he was firmly bitten by the electronic music bug. 'First time I heard Discovery, I was blown away by what I heard, but at the same time confused. I could recognise a lot of the samples they used, as I knew the originals so well from growing up. But I couldn't understand how they made this type of music. It was all new to me, coming from a strictly live band background. So I made it my mission to find out how and try for myself!'
Making his first forays into the world of techno with releases on Four:Twenty in 2006, it was his breakout singles 'Revox' and 'Mr Dry' in 2008 that made the scene sit up and take notice. Tim burrowed further into refining his production prowess with releases on Dirtybird, Cocoon, Get Physical and remixing the likes of Friendly Fires, Cassius and Seth Troxler to name a few, before subsequently being crowned Best Breakthrough Producer at the 2010 DJ Mag Awards. The same year he also recorded his debut 'Essential Mix' for BBC Radio 1, which showcased his considerable abilities as a DJ, and was the beginning of a burgeoning DJ career that has seen him traverse the globe on a weekly basis. Institutions such as Fabric London, Panorama Bar Berlin, Amnesia Ibiza and festivals such as Burning Man Nevada, Bestival UK and Dockyard Amsterdam have become a regular fixture in his touring calendar. In 2016 Green took the decision to also perform as a live artist, introducing the physical live elements of hardware, keys and loop pedals he has been able to bring his famed productions to life in an all new experience.
Sven Vath's Cocoon imprint has become synonymous with Tim's techno career. Having released numerous tracks and EP's on the label between 2011 to 16, It only seemed right that Tim would release his debut album with Cocoon in 2018. A landmark body of work and concept that sidestepped convention 'Her Future Ghost' is a bold LP and the culmination of his artistry. 'My concept and direction for 'Her Future Ghost' was to write a film score for a film that doesn't actually exist,' says Tim. 'As an avid film score fan, I wanted to create a body of work that took certain typical soundtrack traits. For example, different motifs that repeat throughout, like character themes which evolve and mutate as well as a narrative that develops through the music'
2018 was to herald further treasure from his studio. With Tim going back to his songwriting roots with new artist project 'Invisible Minds'. Shining a light on a more melodic side to his musical personality. Singles such as Yo Mae Leh & The Cut Girl were released anonymously and received huge support from BBC6 Music and Spotify, resulting in an album deal with legendary UK label Moshi Moshi and the debut album 'Make Up Your Own Stories' being released in October of that year. The album is a story that has been 12 years in the making – and it's a story that proves well worth the wait.
The coming year looks set to be the busiest of his career to date, no only will he be continuing with the usual hectic touring schedule as Tim Green across at key clubs and festivals in Europe, North & South America and Asia. He will also be releasing landmark records as Tim Green that have been in the works for some time... plus a few more surprises in store no doubt.
ABOUT DENITE: Berlin-based artist Denite introduction to electronic music came in the 90's at the age of fourteen. He used to spend countless hours by the DJ booth in a small club in his hometown in Spain, always amazed by the DJ's ability to create an emotional journey when playing music for a crowd. In 1995 he got his first set of turntables and started mixing his first records. In 1998, influenced by bands like Nirvana, Red Hot Chili Peppers and Green Day, he started playing guitar, drums and bass, performing in bands for a number of years.
In 2002, a move to Frankfurt introduces him to Drum&Bass via the local scene, sparking his interest for electronic music and the jazzy and soulful side of Drum&Bass in particular. In 2003 Denite moves to Thessaloniki in Greece where he plays his first DJ sets and produces his first tracks signed as Gari Marcos. 2008 sees him move back to Spain and begin work on his new house-oriented Project, taking on the moniker of Denite. Taking in all his previous musical influences and turning them into one unified style, he releases his first 12" on the german imprint Resopal Red in 2010. That year also sees the inception of his own label, Redlight Music.
In 2012 Denite puts the finishing touches to his first electronic live set and tours the United States and Spain for the first time. That same year, he becomes resident DJ in one of Spain's main electronic music clubs, Metro Dance Club, sharing the Dj booth with artists like Loco Dice, Solomun, Âme, John Digweed, Rolando, Nick Fanciulli, Nick Curly and Marc Romboy. His broad musical background, allows him to play sets that run from Deep House to Techno, while always remaining loyal to a rhythmic groove and melody.
Denite's productions are highly influenced by his time he spent playing in live bands and by the more rhythmic and melody-driven Drum&Bass of the early 2000s. These influences are perceptible in his drums, bass lines, melodies, percussive grooves and his characteristic sound and touch on keys. His releases have graced the shelves of such labels as Diynamic, Get Physical, Third Ear Recordings as well as his own Redlight Music imprint. His remix work has been commissioned by the likes of Thomas Schumacher, Deepchild and Echonomist, appearing on labels like Noir Music, Trapez Ltd and Resopal Schallware.
His long player debut album "Everything I Know And I Will Never Know About You" meant a deeper dive into electronica, pop and house music while keeping his very personal touch on drums and keys. Released last year and recorded in New York, Elche in Spain and Berlin, the album was worth a word in electronic music press media including MixMag, Faze Magazin, DJ Mag, Blisspop, El País, Siglo XXI Radio 3 or Big Shot Magazine among others. Together with the recent nominations to "Best Album of 2016" by the Spanish "Vicious Music Awards" (Vicious Magazine) and "Orbita Magazine".