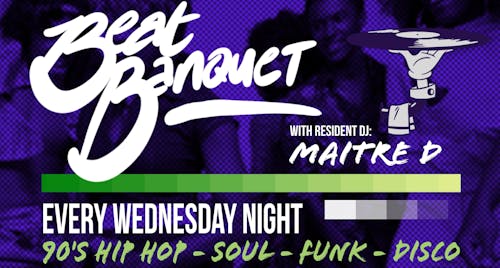 Beat Banquet – 90s hip-hop night w/ Maitre D in the Monarch lounge!
Our weekly Wednesday night of hip-hop, funk, disco and soul takes over the Monarch lounge! Our resident DJ Maitre D is out sick this week, but join us for tunes from SF local artist Chris Fox.
Chris is a Resident DJ at Bootie SF, and plays throughout the year at Laszlo & DNA Lounge as well – plus, he's a member of the infamous Damn Gina! party crew. An internationally-acclaimed mashup producer and one of San Francisco's most creative DJs, he has musical sensibilities that are unique and crowd-pleasing. His DJ sets range through all eras and genres, showcasing his vast musical vocabulary. He knows how to rock a crowd, yet is dedicated to melodic mixing and non-obvious song choices. He takes a classic dancefloor approach and adds his own original flavor.
Free entry all night!
***
21+
Void Sound System
For more info, contact info@monarchsf.com
Follow Monarch on social media:
Come grab a bite next door before the show at Pawn Shop. Check out our menu here: https://thepawnshopsf.com