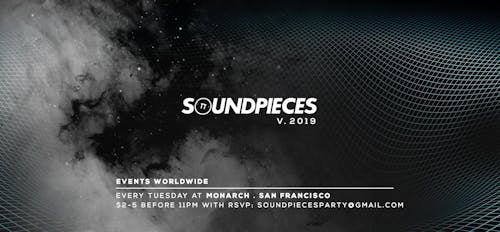 American Grime, Vourteque, Centauri at Soundpieces SF
$7.00
Sales Ended
On Eventbrite
American Grime, Vourteque, Centauri at Soundpieces SF
BRAP!! Inspired by the UK underground, this music collective pushes the culture and sound of Grime through Music releases, live performance and collaborations. Don't miss your chance to peep the American Grime squad.
█ AMERICAN GRIME - Worldwide
http://www.facebook.com/AmericanGrime/
█ VOURTQUE - Chicago
█ CENTAURI // Encrypted Audio, Bay Sine Recs - SF
www.soundcloud.com/centauridub
ABOUT TUESDAY — Soundpieces turns up in the BASSMENT of Monarch EVERY TUESDAY. We are San Francisco's ONLY weekly plug to witness diverse selections of the most proper underground electronic music of our time.. Dubstep . Trap . Grime . Hip Hop . Footwork . Halftime . House & More!
TO RSVP FOR DISCOUNT ENTRY BEFORE 11PM — You must hit "Going" on facebook event page and/or email your full name to soundpiececesparty@gmail.com. Email us now to Register for forever VIP treatment and intel of our future shows and undergrounds.
∏∏∏∏∏∏∏∏∏∏∏∏∏∏∏∏∏∏∏∏∏∏∏∏∏∏∏∏∏∏∏
█ about American Grime
This talented collective started with a single artist and has grown into a national wave with anchors in Boston, Washington DC, Miami, Atlanta, Detroit, Denver, multiple spots in California and Texas, and beyond. Grime wasn't being represented in their American hometown. No grime on the radio. No grime in the clubs. It was the idea that together, we could influence the music around us, that inspired American Grime Records founders Serg Mendes and Calvin Cyrus to start branching out all over the country. Before the wheels were spinning, AG had worked with a couple of other independent labels, and through traveling and collaborations, learned the ropes. Now, over the years, we have developed relationships with emcees, producers, engineers and pushers of grime and bass music. Above all, we value originality in our artists who work hard to bring you a taste of something new.
https://www.facebook.com/AmericanGrime/
█ about Vourteque
Musician, producer, remix artist, DJ, carny and ringmaster - Vourteque entertains and wows crowd from Los Angeles to New York. He's one of the minds behind Chicago's Rouge! electro swing night, a Do312 nightlife awards nominated monthly that's featured guests such as Good Co., Lord Justice and Dutty Moonshine.
Vourteque's sound can best be described as a cross behind the more house and disco influenced European style of electro swing but injected with a good dose of good ol' American industrial, techno and gothic blues. His single, Whiskey Drinker, has gotten acclaim and plays throughout the internet, and his first release, The Swing Mechanical, still sells robustly two years out and can be found on Amazon, iTunes, Spotify, Beatport and more.
He's played for a wide variety of promoters and shows, from The Steampunk Ball in Tampa and The Anachronism in New York to being a favorite dj at Detroit's Theatre Bizarre show three years in a row now. He's been described as one of the best steampunk and electro swing DJs in the United States and has never left a crowd feeling let down.
He's currently working on a full length album featuring collaborations with Professor Elemental, Sabrina Chap, Carey Rayburn of Good Co, Joe Harbinson and Alex Johns of Ford Theatre Reunion and, of course, Mr. Automatic whom he frequently performs and produces with.
http://www.facebook.com/pg/VourtequeMusic
█████ MONARCH █████
101 Sixth Street @ Mission St, San Francisco
10PM-2AM . 21+ . SF Rated Best Sound System . Swanky & Vibey . Amazing Drinks . Free Photo Booth!!
http://www.facebook.com/monarchsf
http://monarchsf.com/
http://www.facebook.com/soundpieces
∏∏∏∏∏∏∏∏∏∏∏∏∏∏∏∏∏∏∏∏∏∏∏∏∏∏∏∏∏∏∏
This event was made possible by SOUNDPIECES
SOUNDPIECES — For over 13 years, Soundpieces has been a consistent staple of diverse and forward thinking electronic music in San Francisco and across the globe. Responsible for countless Bay Area debuts such as Skepta, Mount Kimbie, Hudson Mohawke, and Nicola Cruz, Soundpieces has become a powerful ambassador of international music in California. But our work doesn't stop in the Bay Area, we have helped book festivals such as Symbiosis Gathering, and produced one-offs in New York, Detroit, SXSW Austin, Outlook Croatia, throughout Asia, and beyond. Valuing quality over any specific genre or style, Soundpieces continues to be the quality plug for fresh, exciting musical styles showcased in the most sophisticated and underground atmospheres. With our rotating roster of new talent and heavyweight artists, along with the longest running bass music weekly in San Francisco, we have built a legacy as one of the West Coast's greatest resources to experience underground electronic music.
@SOUNDPIECES
THE VOID Acoustics Soundsystem
We are honored to be able to showcase Soundpieces on Monarch's custom horn-loaded Void Acoustics Sound System, the only one of its kind on the West Coast!!! When you descend to the club's dance floor you are immersed in a world of complete euphony generated by the venue's four protruding tuba-like enclosures. Without a dead spot in the room, it's easily the best place in the city to hear the biggest sound.