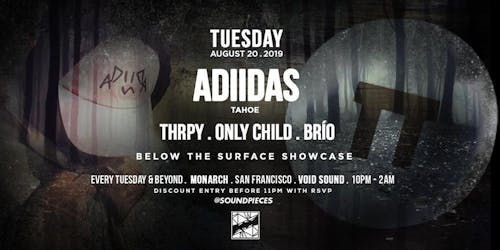 ADIIDAS, THRPY & MORE — Soundpieces x Below the Surface
SOUNDPIECES PRESENTS — BELOW THE SURFACE SHOWCASE, FULLY LOADED WITH THAT FRESH CUT BASS SOUND....
█ ADIIDAS
█ THRPY
█ ONLY CHILD
█ BRÍO
ABOUT TUESDAY — Soundpieces turns up in the BASSMENT of Monarch EVERY TUESDAY. We are San Francisco's ONLY weekly plug to witness diverse selections of the most proper underground electronic music of our time.. Dubstep . Trap . Grime . Hip Hop . Footwork . Halftime . House & More!