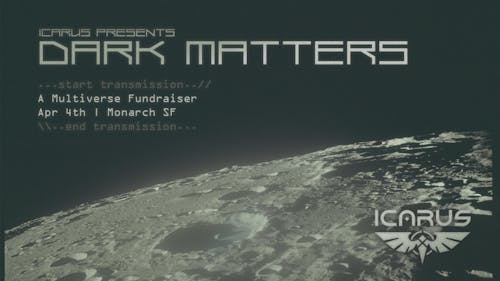 [POSTPONED] ICARUS Presents: Dark Matters | A Multiverse Fundraiser
$10.00 - $20.00
Postponed
[POSTPONED] ICARUS Presents: Dark Matters | A Multiverse Fundraiser
**UPDATE: This event has unfortunately been postponed. Tickets will be refunded in full. We appreciate your understanding, and we'll be back on a dancefloor with you soon!**
After a year away from the dust, ICARUS is gearing up for a 2020 endeavor into the multiverse.
Dark matter cannot be seen directly. It cannot be detected. It stands as perhaps the most mysterious substance within our infinite universes, hiding in the shadows. And within those dark corners of the multiverse, you'll find a familiar spaceship…
Step into the space cave as we dive into the blackness of the dancefloor & discuss matters of dark importance. Explore with us as we rediscover our alternate selves, lost in the planes of the galaxy.
Funds raised go towards bringing ICARUS, a nonprofit, back to playa for years to come.
»»»
Music by ICARUS resident DJs & friends TBA.
»»»
21+
Void Sound System
For more info, contact info@monarchsf.com